Permanent exhibition of Abiko City Museum of Birds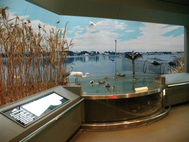 Scenic Tega Lake is home to many species of birds. Exhibitions in this room depict the four seasons of the Lake and its wild inhabitants. The large scene shows the Lake in mid-winter, with various ducks and diving birds. Three smaller dioramas depict rice paddies during the transplanting season; reed beds in summer; and a sand bar in late autumn.
NOTE: After touring the museum, be sure to take a stroll on the trail that runs along the northern shore of Tega Marsh. Why not enjoy observing the birds depicted here in their natural habitat.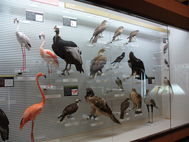 These exhibitions deepen our understanding of ornithology, or the science of bird study.
Starting with the basic question; "What is a bird?", the exhibits take you on a fascinating journey through bird evolution and diversity. Mounted specimens show birds of various shapes and sizes from around the world, while multi-media panels and displays reveal the secrets of flight and other amazing aspects of bird biology and behavior. Rare specimens, such as a restored fossil Archaeopteryx and the eggs of the extinct bird Aepyornis, provide clues into the origin and ancient history of the avian lineage.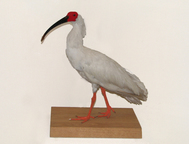 This exhibit shows a Japanese Crested Ibis. These birds were once common residents of rice paddies and marshes, but can no longer be found in the wild. Now we can see these magnificent birds only as stuffed artifacts in mueums, mute testimony to the consequences of ignoring the need to protect birds and their natural habitat. The three corners in this section of the museum are devoted to bird conservation. Here, we explore the how and why we should coexist with our avian neighbors.
Q & A corner We can enjoy learning about birds and the nature of Abiko with the personal computer.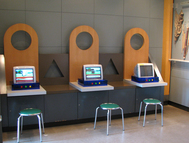 Be sure to try your hand at the interactive 'Bird-Quiz' on our touch-button computers, then step out on the veranda for an overview of beautiful Tega Marsh.